They want to explore youth culture and queer life in the countryside, go on literary bike tours and hikes on the street of labor, they want to tell sustainable stories and write about cohesion and separation in urban and rural spaces: Ten authors convinced the jury with their project outlines and secured residencies for the third edition of stadt.land.text NRW.
For the first time, literary artists who do not write in German were also able to apply for the 2022 call for entries. Rabab Haidar, Neïtah Janzing, Tanja Maljartschuk and Álvaro Parrilla Álvarez responded to this call.
An overview of the 2022 regional writers.
Kadir Özdemir (Aachen)
Aachen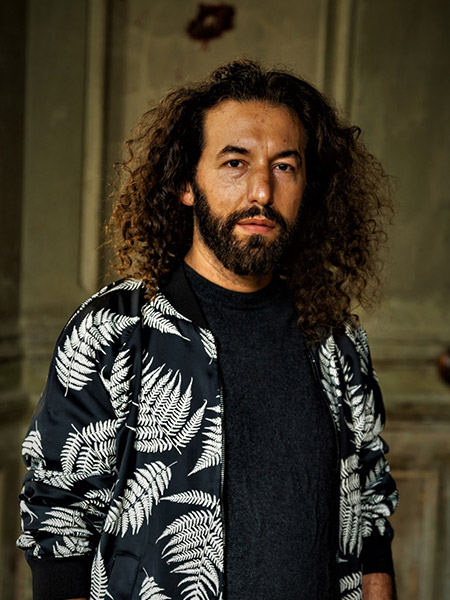 Kadir Özdemir (*1977) studied modern history and sociology and works at the meeting point of LGBTIQ and migration. He has published in numerous anthologies and magazines and regularly writes columns. As an actor and performer, he founded the theater group Die Migrationserb:innen (The Heirs of Immigration), a collective consisting of actors who have experiences of displacement and migration. Özdemir is the prize winner of the 2021 CLINCH FESTIVAL AWARD and stipend for Occupy Kultur! Mentoringprogramm für neue Perspektiven im Kulturbereich (Occupy Culture! Mentoring Program for New Perspectives in the Culture Industry). With his project Bubbles, he intends to pursue the following questions in the cultural region of Aachen: what brings us together and what separates us in urban and rural environments? And who is this "us", anyway? In doing so, he will portray the region in his short stories at times as an area for the competition between interests, at times as a mosaic of lifestyles and network with artists, activists and citizens.
Ulrike Anna Bleier (Bergisches Land)
Bergisches Land
Ulrike Anna Bleier (*1968) lives in Cologne and Oberpfalz. She has received multiple awards for her literary work, most recently a work stipend from the Kunststiftung NRW and a writer-in-residence stipend in Quebec, Canada. Her debut novel, Schwimmerbecken (Swimmer's Pool) made the 2017 hot list of the ten best books published by independent publishers. She supervises the project Kölner Kulturpaten (Cologne Culture Patrons) and brings people together at the meeting place of business and art. In Bergisches Land, Ulrike Anna Bleier offers an invitation to hike along with her on the historic street of labor and to tell your own stories. Why do we work, what work do we do? What significance does work have for us, what improvements do we desire? A digital street of labor straight through Bergisches Land will be created from profiles and interviews.
Dorian Steinhoff (Hellweg)
Hellweg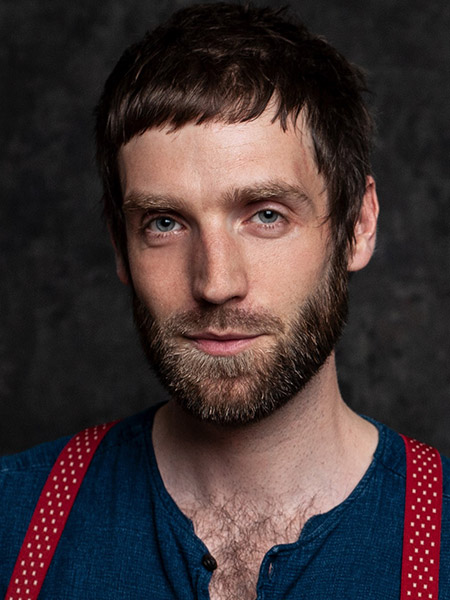 Dorian Steinhoff (*1985) is both German as well as Austrian. He studied philosophy, law and German studies at the University of Trier. He has worked as a freelance writer since 2010, publishes prose and writes for both the stage and the radio. As the founder and artistic director of the incubator for storytelling media phileas FESTE, he develops and creates new forms of storytelling and supports writers. He has received multiple awards for his work and his texts have been translated into five languages. During his residency, he will explore the cultural region of Hellweg by bicycle, making constant stops along the way. The documentation of the journeys will serve as the point of departure for writing about places and encounters. He will publish routes, photos and the accompanying texts on the outdoor platform Komoot. This will result in the creation of a literary transportation network that profiles the region and its people and invites the viewers to follow the routes and texts on their own bicycles.
Neïtah Janzing (Münsterland)
Münsterland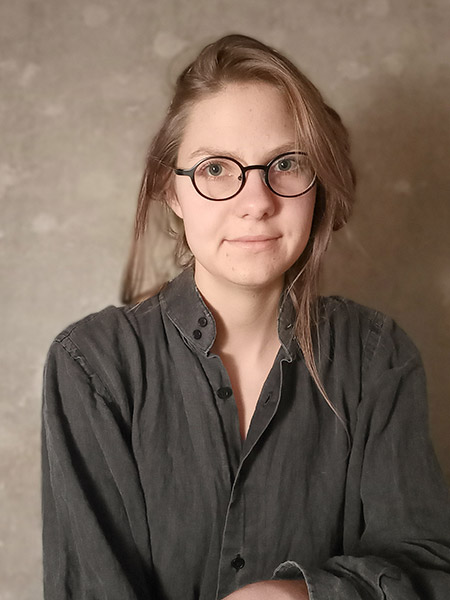 Neïtah Janzing (*1997) organized monthly public readings in the Bibliothèque St-Germain in Saint Hyacinthe, Canada over the course of her studies in costume design and stage design. She immigrated to Germany in 2019 and, in its capital, joined the Résau des Autrices francophones de Berlin, the network of French-speaking writers in Berlin. The network mutually realizes public readings, editorial reviews and text workshops. Janzing was the web resident at Hôtel des Autrices on two separate occasions and presented short poems at a hospital in Madrid, Spain in 2021 as part of the initiative Cultura en Vena. As part of her Briefprojekte (Letter Projects), she invites the participants to write letters to people they do not know. She has already tested out the format in the Czech Republic and Germany and will now further develop it as part of her residency. In Münsterland, she will create postcards from her photos of the region and send her impressions, expressed in just a few words, to people she does not know.
During her residency, Neïtah Janzing's texts will be translated by Odile Kennel.
Álvaro Parrilla Álvarez (Niederrhein)
Niederrhein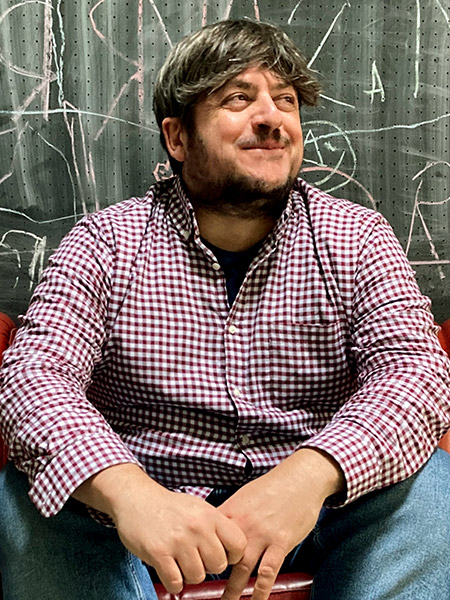 Álvaro Parrilla Álvarez (*1983) is a screenwriter, author and director with a passion for music, film and literature. He studied media studies at the University of Seville, where he wrote and filmed his first short films. He came to Germany for the work on his short film Goldfische (Goldfish) and completed a course of studies in screenwriting and film directing at the Kunsthochschule für Medien Köln (Academy of Media Arts Cologne). Following this, he shot the short films Interkosmos (Intercosmos) [2020] and Vierundfünfzig (Fifty Four) [2022]. During his residency, he intends to follow the trail of his great uncle Manolo with a project bearing the title Zwei Andalusier im Wilden Westen (Two Andalusians in the Wild West): he lived in the region for fifty years and became a stranger to his family. Who was Manolo? Why did he choose to live in NRW? Now, ten years after his death, Parrilla Álvarez is searching for answers in Niederrhein, a border region with distant horizons and expansive landscapes, like a western in the twilight.
During his residency, Álvaro Parrilla Álvarez' texts will be translated by Freyja Melsted.
Tobias Schulenburg (Ostwestfalen-Lippe)
Ostwestfalen-Lippe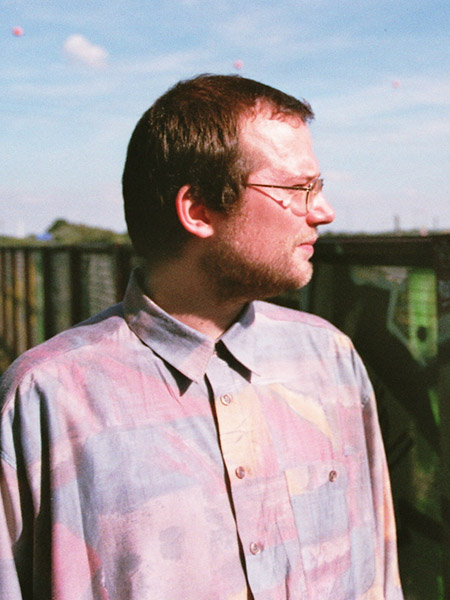 Tobias Schulenburg (*1987) normally lives in Cologne, but, of course, will now be living in Ostwestfalen-Lippe. He writes and draws. He has been a student at the Kunsthochschule für Medien Köln (Academy of Media Arts Cologne) since 2018. His debut novel, es sich schön machen (It Makes Itself Beautiful), was published in 2020. He still holds a degree as an automotive designer from a previous life. During his residency, he will create texts and drawings inspired by his experiences there under the working title Ich kannte niemanden und alle waren nett (I Didn't Know Anyone and Everyone Was Nice). His interests include, but are certainly not limited to: how we deal with time and what we do during our days, as well as: shopping centers, parking lots, queer life, motorsports, semi-romantic forest paths, fashion, religious denominations, system catering, flea markets (of course), office buildings, bodies of water of all kinds and their shores, animals, garbage dumps, settlements, gas stations, cross-country walking, retirement homes, sunsets, ice cream parlors, consuming alcohol and factory outlets.
Stefanie de Velasco (Rheinschiene)
Rheinschiene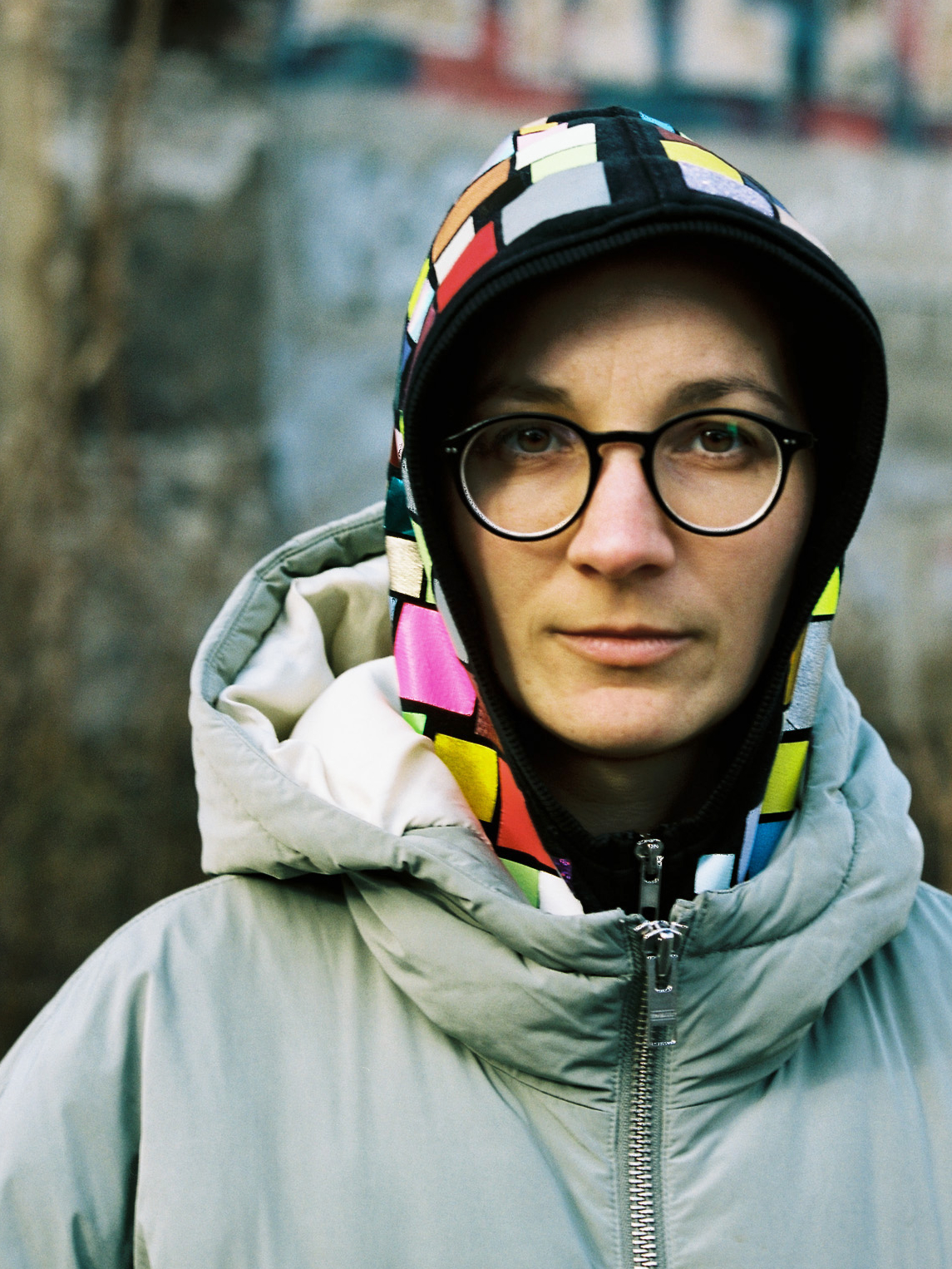 Stefanie de Velasco (*1978) grew up in Oberhausen and Bonn as the child of Spanish immigrants. Her debut novel, Tigermilch (Tiger Milk), has been translated into multiple languages and adapted as a film. Arising from her strike in front of the Akademie der Künste in Berlin for a more just climate policy, the thought arose in 2020 of building a camper bicycle out of scrap and riding it through the Federal Republic of Germany. Her concept of sustainable storytelling involves an aesthetic of sustainability as an artistic practice based upon principles of resource conservation. During her residency, she will return to the places of her childhood and youth: are the puddles in Sankt Augustin still full of tadpoles in the spring? And if not, why? She intends to come together with people, landscapes, trees and spaces to search for a language that not only verifies the fragility of the circumstances in the Anthropocene, but, at the same time, creates new cycles, forms of existence and forms of storytelling.
Rabab Haidar (Ruhrgebiet)
Ruhrgebiet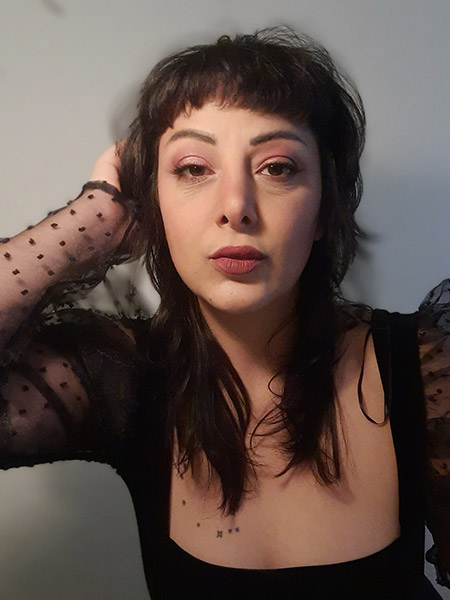 Rabab Haidar (*1977) lives in Berlin and grew up in Syria and Bahrain. She studied English literature at Tishreen University in Latakia (Syria), is a certified translator and works as a freelance journalist. Her travels to numerous countries in South Asia, Europe, North Africa and East Africa have helped her to "understand societies as a continuum". Her first novel, Land des Granatapfels (Land of the Pomegranate) was published in 2012. She has written for German media since 2017, including, amongst other publications, Zeit Online, Vogue and weiterschreiben.jetzt. She came to Germany with a stipend from the Heinrich Böll Foundation in 2019 and has presented her work at a variety of festivals and readings since then. With her essay project Barfußlaufen in kleinen Gärten (Running Barefoot in Small Gardens), she intends to create a written mosaic of completely normal life in the Ruhr Area that follows the stories of people through bars, cafés, museums, parks and markets, that eavesdrops on the rivalries between different types of beers and football clubs and which observes our hobbies and quarantine routines.
During her residency, Rabab Haidar's texts will be translated by Freyja Melsted.
Tanja Maljartschuk (Sauerland)
Sauerland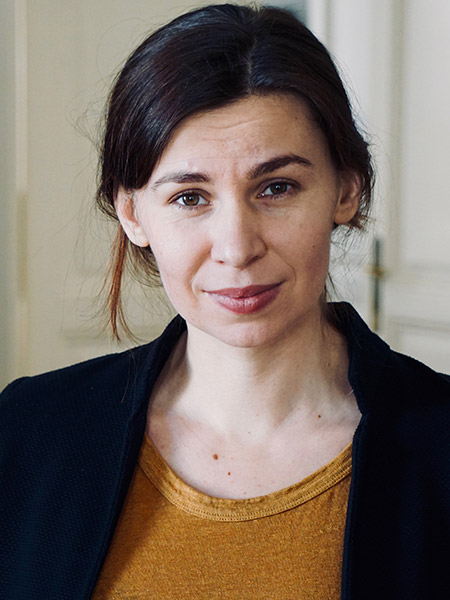 Tanja Maljartschuk (*1983) lives and works as a writer in Vienna. She studied philology at the Vasyl Stefanyk Precarpathian National University in her hometown of Ivano-Frankivsk in Western Ukraine and worked for some years as a television journalist in Kiev. She has lived in Austria since 2011. Her most recent novel, Blauwal der Erinnerung (The Blue Whale of Memory) was published in German in 2019. She has published numerous essays in newspapers and magazines such as the FAZ and Die Zeit, amongst others, as well as radio pieces on the ORF. She has received multiple awards for her literary work including the 2016 Book of the Year Prize from BBC Ukraine and the 2018 Ingeborg Bachmann Prize for her story Frösche im Meer (Frogs in the Sea). During her residency, Tanja Maljartschuk intends to deal with the history of the Second World War in Sauerland, research documents pertaining to Eastern Europe forced laborers in the surrounding archives, thus creating a bridge between different models of memorial culture in the form of short essays.
Tobias Siebert (Südwestfalen)
Südwestfalen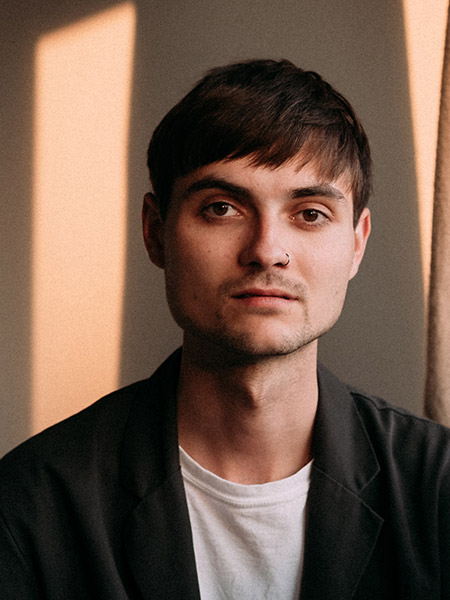 Tobias Siebert (*1993) is a writer as well as a graduate of the Deutsches Literaturinstitut Leipzig. Before this, he studied comparative literature and language arts in Mainz and Vienna. He has published work in a variety of magazines and anthologies and is a co-producer of the interdisciplinary reading series anemonen. He was a finalist for the Literaturförderpreis (literature encouragement prize) of the state capital of Mainz in 2021. He lives in Leipzig. In his project Komm, lass rausgehen (Come On, Let's Go Out), he intends to set out on the search in Südwestfalen for subcultural phenomena and observe their visibility within the context of digitalism. What new possibilities and opportunities do a digital infrastructure provide in rural space and what additional significance do the larger cities gain as a result of this? What hobbies for which there is no place in the cities are pursued in the countryside? The impressions he gains over the course of this work will be made into literary miniatures and short essays and published on the blog.