Every two years, 10 residents explore the cultural regions of NRW for four months. Here is an overview of the 2017 regional authors.
Slavica Vlahovic (Aachen)
Aachen
Slavica Vlahovic (*1961) moved from Sarajevo, which she left shortly before the war, to Cologne where she worked as a journalist, author and media educator for a variety of employers, including, amongst others, the WDR. She was nominated for the European Media Prize for Integration for her series Mein Nachbar, das unbekannte Wesen (My Neighbor, the Unknown Creature). Having no fear of encounters and accompanied by a rebellious will and an unmistakable accent that remains true to her wild Balkans, Slavica Vlahovic sets off on a new adventure in the region of Aachen.
Dimitri Manuel Wäsch (Bergisches Land)
Bergisches Land
Dimitri Manuel Wäsch (*1990) was born and grew up in a small town in the Rhine-Main region and currently lives in Vienna, where he completed his studies in psychology in 2017. After making the leap from a rural area to a metropolis, he will now come to Bergisches Land, which he finds especially exciting due its combination of nature and city. He will rely on his curiosity and creativity to find new forms of expression between fiction and journalistic writing over the course of his stipend.
Matthias Jochmann (Hellweg)
Hellweg
Matthias Jochmann (*1987) lives in Frankfurt am Main and has worked as a director and writer for theater and radio in Germany and China since completing his studies in applied theater studies. He is interested in the mutual dependencies of local and global developments and, in an increasingly globalized world, would like to conduct research into a sense for neighborhood and belonging.
Claudia Ehlert (Münsterland)
Münsterland
Claudia Ehlert (*1990) concluded her studies in cultural poetry this summer as well as work as a student volunteer for the LWL Literature Commission for Westphalia. She plans to drive through and explore the region on a road trip through Münsterland in a camper van. She will especially have her eyes out for places that lay outside of the most heavily traveled routes as well as local and naturalized residents of Münsterland who are also "in movement." In her logbook, she will report on her life on the road as well as the encounters and things she finds along the way.
Deborah Kötting (Niederrhein)
Niederrhein
Deborah Kötting (*1986) works in Leipzig as a freelance writer and is also the co-founder of the artist duo Katharsis & Tumult as well as the VERLAK publishing company. As a stage designer, she spent a long time being responsible for the procurement and disposal of all stage furnishings which resulted in her desire to accompany Niederrhein in the clearing out, throwing away, collecting, selling, buying and celebrating of things as her project idea. With the contacts she makes as a result of this, she wants to explore the things thoroughly, ask people about their objects and discover the specific nature of the region.
Theresa Hahl (Ostwestfalen-Lippe)
Ostwestfalen-Lippe
Theresa Hahl (*1989) works as a freelance artist in Hamburg and is an active part of the German-language spoken word community after having studied comparative and European literature. She seeks to include the interactive approach in her artistic work by created a reading series in different "puzzle pieces" that the audience will enrich through its own associations and experiences.
Marie-Alice Schultz (Rheinschiene)
Rheinschiene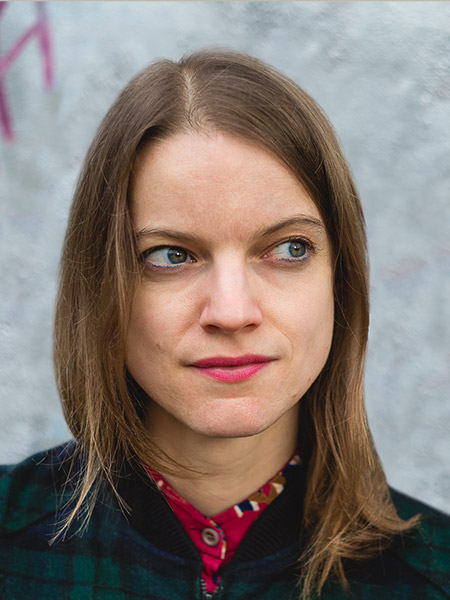 Marie-Alice Schultz (*1980) lives and works as a freelance writer and artist in Hamburg. After studying theater studies and German studies in Berlin, she studied painting in Vienna. She received the Autorenstipendium (writer's stipend) of the city of Vienna in 2011 for her project about the Vienna subway Stationen, unter anderem. (Mögliche Ansagen für den Untergrund) [Stations, amongst others. (Possible Announcements for the Underground)]. amongst others. As part of the stadt.land.text NRW program in 2017, she suggested the idea of mobile city author who would move the act of writing itself into the public sphere and allow interested parties to take part. Instead of working behind closed doors, she placed her desk in public transportation and wrote down directly what she observed there. In this manner, she captured a region in movement along the railways and streets. Marie-Alice Schultz combined the places she traveled through into a text transportation network that constantly grew over the course of the project.
Melanie Huber (Ruhrgebiet)
Ruhrgebiet
Melanie Huber (*1988) lives and works in Kiel as a freelance local journalist and cultural journalist, as well as an online journalist. She is interested in contemporary historical phenomena that are defined via people and their everyday lives and, through using a literary documentary method, records moments that take place on the streets, in the theaters or in the supermarkets of the Ruhr area in order to make them tangible and imaginable for outsiders.
Christian Caravante (Sauerland)
Sauerland
Christian Caravante (*1971) lives in Dortmund and works as a freelance journalist, instructor and writer. He studied political science and journalism in Bonn, Berlin and Seattle, worked in the Bundestag and as a freelance writer. He was invited to the finals of the Open Mike Literaturwettbewerb (Open Mic Literature Contest) and received the Literaturpreis Ruhrgebiet (Förderpreis) [Ruhr Area Literature Prize (Encouragement Award)]. He is very interested in the film, photography and US literature of the 1950s and 1960s, is married and has three children. As a writer, he searches out the coincidental and the in between in the region of Sauerland, which seems quite stable. Using reporting and literary methods, he intends to explore the borders of the region and, by traveling all over it, become acquainted with what is foreign to him along the way.
Lisa Kaufmann (Südwestfalen)
Südwestfalen
Lisa Kaufmann (*1990) has found her way to the Ruhr Area as a native East German with Egyptian roots. As a passionate walker, she looks forward to traveling through the region of Südwestfalen by foot and by train and she can also imagine conducting a culinary journey of discovery. For her short stories, a direct exchange with the people who live in the region is important since she wants to know what it feels like to live here, not just what it looks like here from an outsider perspective.