Every two years, 10 residents explore the cultural regions of NRW for four months. Here is an overview of the 2020 regional authors.
Pascal Bovée (Aachen)
Aachen
Pascal Bovée (*1980) lives and works as a writer and Dutch translator in Hildesheim. He has won multiple awards for his interactive artistic work and audio dramas. He has worked in and with a number of prominent producing institutions: the choreographic center NRW PACT Zollverein, the Hellerau European Center for the Arts in Dresden, Bayerischer Rundfunk, Südwestdeutscher Rundfunk as well as Schweizer Radio und Fernsehen. During his residency, Pascal Bovée plans to create a literary map of the region of Aachen and make miniatures for it that "use the different media formats: radiophone sketches […], reporting using images and text as well as poetic elements."
Tilman Strasser (Bergisches Land)
Bergisches Land
Tilman Strasser (*1984) worked for various film and television production companies as an outliner and developer after studying in Hildesheim. Today, he lives and works in Cologne as a freelance writer and literary educator. Strasser's gateway to Bergisches Land are the people. He intends to create profiles of "the people" of the region over the course of exploratory trips. However: he plans to "exaggerate" some of them, others will be "illuminated from unusual angles so that a new perspective results" and some profiles he will "invent completely" – and all of this, if possible, so that the reader doesn't even notice…
Annika Stadler (Hellweg)
Hellweg
Annika Stadler (*1984) lives and works in Berlin and Estonia. She has been active as a dramaturg, writer and performer at, amongst others, Sophiensaele Berlin, Volksbühne Berlin, the Maxim-Gorki-Theater, Schauspiel Stuttgart and at Junges Theater Göttingen. She worked as a dramaturg and director at Schlosstheater Moers from 2015 to 2018. Whenever she visits somewhere, she first "goes to the botanical garden or to the nearest Obi" (a chain of home improvement stores). In Hellweg, she intends to create a "museum of unusable things" that tell the stories of the bodies in the basement or, as someone out for a walk, spy on the borders where urban space and idyllic nature meet. "I have never picked more elderberries and blackberries than I did on the outskirts of Oberhausen."
Charlotte Krafft (Münsterland)
Münsterland
Charlotte Krafft (*1991) studied German literature in Berlin and literary writing at the Deutsche Literaturinstitut Leipzig. Together with three other writers that she is friendly with, she founded Rich Kids of Literature, a collective that develops new target groups through public events and actions and supports young writers with interesting literary approaches. As the daughter of two landscape architects with a soft spot for science fiction, horror and fantasy, Charlotte Krafft asks herself: "Why do and have nearly all visions of the future always reference urban centers and why does the development of places and landscapes with heritage value hardly ever play a role in this?" In Münsterland, she wants to pursue the question of "whether rural space, the village, the small town can also serve as an unwritten space for hope precisely because of its neglect in speculative literature."
Carla Kaspari (Niederrhein)
Niederrhein
Carla Kaspari (*1991) is a total city person and has lived and studied (music studies and German studies) in Dortmund, Bonn, Cologne and Paris. She has lived in Cologne since 2013, where she works as a freelance author, copywriter, translator and DJ. She writes the column nelke-schneewittchen & alfafa (Carnation Snow White & Alfalfa) for the literary and culture magazine metamorphosen (metamorphoses), which was praised on Twitter by the arts section of ZEIT as "the only relevant column in a German-language magazine". In Niederrhein, Carla Kaspari would like to spend four months exploring in a multimedia blog, that is, texts in combination with images, interview podcasts and videos, what it means to truly leave the urban environment behind her for a certain period of time.
Yannic Han Biao Federer (Ostwestfalen-Lippe)
Ostwestfalen-Lippe
Yannic Han Biao Federer (*1986) studied German studies and Romance studies in Bonn, Florence and Oxford. He is currently pursuing his doctorate in Bonn and works at Literaturhaus Köln. He has received multiple prizes for his literary texts: amongst others, the Rolf Dieter Brinkmann stipend (2017), the Harder Literature Prize and the Grand Prize of the Wuppertal Literature Biennial (2018). He was awarded the 3sat Prize at the Festival of German-Language Literature. In 2019, his debut novel Und alles wie aus Pappmaché (And Everything As If It Were Made Out of Papier-mâché) was published by Suhrkamp. Driven by the question of how the periphery and center flow into each other, Yannic Federer intends to set off across the cultural region beyond the urban centers and, in doing so, create photographic and textual notes that will be incorporated into blog reports and daily Instagram stories.
Larissa Schleher (Rheinschiene)
Rheinschiene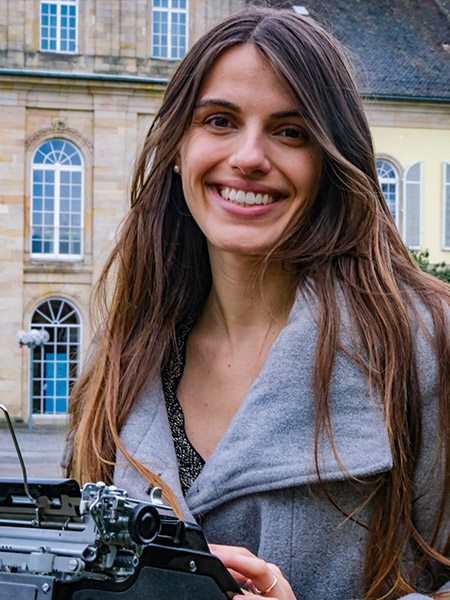 Larissa Schleher (*1993) studied comparative literature, theology and German studies in Stuttgart. She has received multiple awards for her literary work: amongst others, the Deutschlandfunk Lyrix prize and the StoryApp prize of the Munich Short Story Contest. Her debut novel was supported by the Förderkreis deutscher Schrifsteller (Supporters' Association of German Writers) in Baden-Württemberg. In Rheinschiene, she intends to take advantage of the opportunity to take a closer (writerly) look at the apparently "unloved 'everyday' and place under the (camera) lens". In a book of photos and texts, she wants to encounter selected inhabitants of the region that represent the everyday to her in order to reflect together with them upon what the everyday means for them. The special feature here is that the essence of these reflections should serve as the point of departure for the conversations with the respectively subsequent person so that these people do not only speak with her, but also through her with each other.
Brandstifter (Ruhrgebiet)
Ruhrgebiet
Brandstifter lives in Mainz and is an internationally active interdisciplinary, conceptual performance artist, author and musician. His work, which has won multiple awards, covers a broad spectrum: collage, copy art, interventions in public space, concrete poetry, book art, poetry, experimental music, sound poetry, readings and performance. He is the publisher of the Collaborations Artists' Books series antipodes and the findings label magazine Lost & Found as well as the first chairperson of the Mainz art association Walpodenstraße 21 e. V. in the Walpode Academy. As a regional writer, Brandstifter would like to collect lost messages in the form of notes in NRW in 2020 in order to set up a Ruhr Area Asphalt Library that depicts life in the cultural region.
Justine Z. Bauer (Sauerland)
Sauerland
Justine Z. Bauer (*1990) grew up on a farm with three siblings. She holds a degree in visual arts from the Hochschule für Grafik und Buchkunst (Academy of Fine Arts Leipzig). She was nominated for the 2018 WORTMELDUNGEN encouragement award and received an invitation to attend the writing workshop of Jürgen Ponto Foundation in 2020. She is currently studying feature film directing and screenwriting at the Kunsthochschule für Medien Köln (Academy of Media Arts Cologne). She finances her studies by harvesting cow parsnip seeds in the summer and by working on a husky farm in the arctic winter, where she teaches tourists how to drive dogsleds. In Sauerland, Justine Z. Bauer intends to give farmers and (especially) female farmers a voice with her project Zwischen den Siloballen (Between the Silage Bales) and write a tragicomic story about life in the countryside in NRW.
Dr. Barbara Peveling (Südwestfalen)
Südwestfalen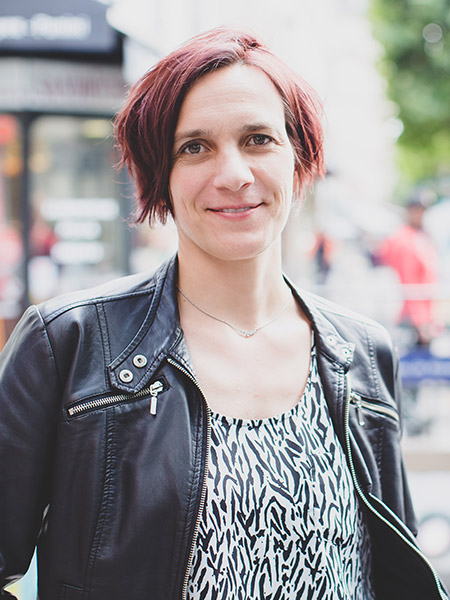 Dr. Barbara Peveling (*1974) lives in Paris and Cologne. Following a lengthy period of residence in the Middle East, she received her doctorate in ethnology and history in Tubingen and Paris. Her dissertation received the Manfred Görg prize in 2015. She made her literary debut with the novel Wir Glückpilze (We Lucky Devils), which was published by the publishing company Nagel und Kimche in Zurich in 2009. Her novel Rachid Rebellion was published in 2017 by the Viennese publishing company Goldegg Verlag. She has published work in magazines, anthologies as well as online magazines and has won multiple awards. Amongst others, she was a finalist for the 2006 Open Mike Literature Contest, received the Goldegg stipend in 2015 and was awarded the prize of the literature competition of the Buchmesse im Ried in 2019. In Südwestfalen, Barbara Peveling intends to conduct research in order to "search for what is special, for what is unique", for "what is offered by local resistance against the widely known effect of globalization, which is that the regions of the world become increasingly similar."